Looking For Turf Supplies In Banbury?
Banbury Turf Direct is a family run company delivering turf through Oxfordshire and the South for over 20 years. We offer a range of services at competitive prices to suit all budgets and needs. Whether you require the delivery of turf and topsoil or you'd like us to level and lay your lawn we'll offer you the benefit of our experience.
Our service extends to after care too. We'll offer you advice and support so you can make the most of your lawn during the summer and throughout the year.
Supplying Turf & Topsoil In
Oxfordshire For Over 20 Years
We offer 3 grades of turf and screened topsoil. We offer a free estimate and laying service with selected orders. We work from Chipping Norton, Hook Norton, Bicester, Brackley and through the greater Oxfordshire area. If you'd like further information about our range of services, please get in touch.
Call Us On

07513178291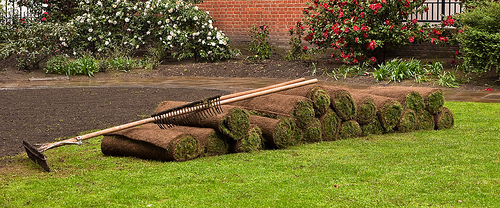 'If you have a garden and a library, you have everything you need …'  — Marcus Tullius Cicero
Your Frequently Asked Questions
Do you require a minimum order?
We generally require a minimum order of 20m2. Exceptions are made at our discretion but generally include past customers or orders based near pre-existing jobs.
Do you offer a landscaping service too?
Yes, an addition to supply, we also provide a landscaping service. For a small fee we'll rotovate, level and lay your lawn. We'll offer ongoing advice about how to manage your turf from the day it's laid and through winter, summer, autumn and spring. We're here to help.
Do you provide a pick-up service?
Unfortunately, after the theft of our equipment, we no longer provide a pick-up service. However, if your order is above 20m2 we are happy to provide our delivery service.
Can you outline your service areas?
We work locally, throughout Oxfordshire and neighbouring counties. Our service areas originate in central Banbury. Through to Middleton Cheney OX17, Hook Norton OX15, Charlbury OX7, Northamptonshire NN1-6, Oxford OX1 & more.
Do you provide ongoing advice on lawn care?
Yes, we do. We'd like your investment to thrive for years to come. We're happy to offer advice or allay any concerns you may have on your new lawn.
Reach Our Team On

07513178291